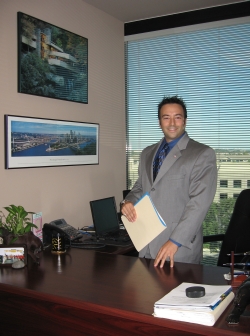 Damon A
Palestra
MANAGING DIRECTOR & CHIEF OPERATIONS OFFICER
Damon joined the practice in 1998 after five years of corporate experience within the financial industry.  He attended college at the University of Florida in Gainesville.  Studied architecture, marketing, and mass communications.  Worked in Customer Relations as an executive associate for numerous Credit Unions throughout the country.  In 1996, he was acquired by Beneficial Finance in downtown Tampa to help facilitate their credit / lending operation.  After the merger with Household Finance, he became a managing officer directly responsible for the marketing strategies of their loan division.
Since partnering with Francis R Palestra, his father, while both with The MONY Group, he has assumed the role of Managing Director & Chief Operations Officer within the company.  Elevating Palestra Financial into a firm dedicated to a "high-tech" strategic approach in financial servicing.  Furthermore, his primary objective is to continue to offer the "high-touch" personal client atmosphere that both he and Frank strongly believe in.  An environment that they consider to be one of the essential concepts leading to the nearly 35 year success and legacy in financial excellence.  His committment to the Palestra Financial service model and strategies provide the clientele with the comfort of succession for years to come.
Partnering with local organizations such as the Westshore Alliance (Member since 2001), Tampa Chamber of Commerce, Pinellas County Humane Society, Safety Harbor City Council, Los Prados Financial Advisory Committee (Chairman), Men of Espiritu Santo, Knights of Columbus (Fourth Degree rank), Trinity Business Association, as well as others, Damon has established the relationships necessary in promoting Palestra Financial as a premier financial services firm here in the Greater Tampa Bay Area.
After 23 years, Damon's continued advancements within the practice, procedural processes, and ongoing technological enhancements have brought Palestra Financial and its clientele into the 21st century ... and beyond.